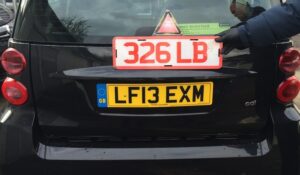 You've probably heard of them and you'll definitely have seen them if you spend a decent amount of time on the road, but what are 'trade' car number plates in the UK, what are they for, who can use them, and how do they get hold of them?
A trade number plate is a temporary number plate used by the likes of motor traders or vehicle testers for convenience, and to save cost, time, and inconvenience of having to register and tax every vehicle temporarily have in their possession.
What do trade number plates look like?
Everyone is used to the way number plates now look in the UK. Those on the front of vehicles have black letters on a white rectangular background and those on the back have black letters on a yellow background. There are classic cars that have the really old-style plates that have silver numbers on a black background but they're pretty thin on the ground these days. On some vehicles, such as SUVs like the Land Rover Discovery, the rear number plate can be square instead of rectangular, but that's about as far as it goes with road-legal number plates these days.
Trade plates look quite different from regular number plates as they have red letters on a white background and they're not permanently attached in the same way as regular registration plates. They also have a border all the way around in the same red colour as the characters, so there's no mistaking a trade plate for a normal number plate.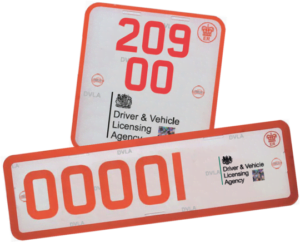 What are trade number plates for?
While most of us tend to drive around in the same vehicle most of the time until we change it, some people have to drive different cars all the time for any number of different reasons.
Mechanics, for example, might drive quite a few cars every day as they take them on road tests to diagnose problems or to check everything is working as it should before the vehicle is handed back to its owner. Sales execs have to move cars around, take them to get fuel and test drive them with potential buyers, while delivery drivers will pick up and drop off vehicles from one place to another.
People have to drive cars they don't own for reasons such as testing, trialling, demonstrating, delivering, repossessing or dismantling, but there still needs to be some way for the authorities to identify the driver even when a vehicle is not theirs. Trade plates make this possible because they are a temporary solution that's easy, convenient and effective for being able to trace a driver who isn't the vehicle's registered keeper.
When you drive your own car you can be traced and identified through the registration number. Your number and your details are registered at the DVLA so the police and others can identify that vehicle as yours. Even if several people are insured to drive that vehicle, the registration plate identifies the owner and who was driving can then be determined by contacting the owner.
It would be completely impractical if a mechanic, salesperson, delivery driver or anyone else had to go online and register in some way every time they had to drive a vehicle on the public highway that wasn't theirs as part of their job. Instead, all they have to do is attach the trade number plates that are registered to the business they own or work for to the vehicle they need to drive and off they go.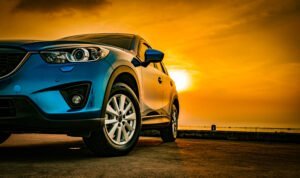 Who can use trade number plates?
In theory, any business or organisation that has a genuine need for trade plates can apply for them. However, I can certainly testify from personal experience that obtaining a set of trade plates is not as easy or as straightforward as you might imagine.
When I first stopped working in car dealerships I started dabbling in buying cars from the auction and selling them retail. It soon became clear that to operate profitably I'd have to be moving more than the odd car here and there, so a set of trade plates were needed. Getting motor trade insurance was hard enough, but the burden of proof required to illustrate your genuine need for trade plates was very high and in the end, I didn't bother.
Section one of the DVLA's guidance notes on obtaining trade plates states: "there is no automatic right to get a trade licence. Only those that can fully comply with the specified criteria will be eligible to become a trade licence holder. To be eligible to apply for a trade licence you must either be a motor dealer, a motor trader or a vehicle tester."
Displaying trade number plates
Every single time I read the DVLA guidance notes on displaying trade number plates I have to have a little chuckle to myself. Let's just say that if I had a pound for every time I've seen trade plates displayed exactly as they are supposed to be I'd probably have enough money to buy a Sunday newspaper.
The official notes state they should be: displayed in a vertical position, visible and easily readable from a distance between 18 to 22 metres, displayed anywhere on both the front and rear (rear only for motorcycles), they cannot be displayed inside a vehicle, and they must not cover the vehicle's existing number plates.
I'd say at least nine times out of every ten times I've seen trade plates used at least one of them will have been displayed inside the vehicle; usually in the front window on the dashboard, but often both inside the vehicle.
I've also heard managers making their own rules up when moving multiple cars at the same time from the dealership to a showground and back. One that immediately springs to mind is it being okay to use one set of plates for five cars in a convoy, as long as the front plate is on the car in front and the rear plate is on the car at the rear of the convoy.
Anyway, at least the next time you see one of these red and white number plates on the vehicle in front of you on the road you'll now know what it is and what it's for. You'll also probably know the trade plate on the car in front isn't being displayed correctly too!