If you are a diligent consumer and you want to be as safe as you can be when buying a used car, you might want to get a vehicle history report carried out before committing to buy and handing over your hard-earned cash. But do you know when you need to get a vehicle history check carried out, when you don't have to bother, or how much (if anything) you should pay for one? In this article, I'm going to cover all that and more so you know whether it's worth paying to get a vehicle history report for the used vehicle you're looking to buy.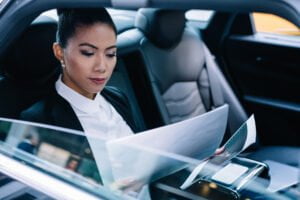 What is a vehicle history report?
A vehicle history report will tell you things about a vehicle you might not get to know about otherwise. Some of the stuff is really basic such as the date of registration and the vehicle make and model, but more detailed reports cover insurance history, previous ownership history, finance details and more.
There are free reports out there you can use but they won't usually tell you the information you really need to know, but they can still be useful and they will often give you the opportunity to pay more to unlock extra details you might want to know about in particular.
When do you need a vehicle history report?
I'd say you mostly only need to worry about a vehicle history check if you are buying from a private seller or a dealer that doesn't include a vehicle history check with each vehicle already. I'm not going to cast any aspersions here, but if you're looking to buy from a small independent used car dealer you might want to get your own report carried out anyway. I'm going to say the days of rampant fraud in the used car business are a thing of the past, but there are still a few sharks left in the water here and there.
Even if a dealer presents you with a recent report, it might not include everything you need to know. For example, everything could look fine with the car in terms of price, age, mileage, service history and condition, but is there any finance still attached to it and do you know if it's a grey import or not?
Why would you need a vehicle history report?
I once had a salesman bring me an appraisal of a customer's part-exchange that he had sold to that customer at his previous dealership. The service history was fine, the condition was excellent, and I got a firm valuation from the group's used car buyer. Unfortunately, we only carried out a check mandated by the company that mostly looked for finance and insurance issues. What it didn't tell us was that this vehicle was originally sold by the manufacturer into the Greek market and was redirected to the UK as a grey import.
Our used car guru had valued it as a UK car and we paid £14,500 for it, but as a Greek import, its true value was closer to £11,000. Thankfully, as we were a big dealership and part of a massive auto group, we managed to retail the car at close to what we had paid for it, but as a private buyer, you would be left high and dry in those circumstances.
Only a very high-quality report would have unearthed the truth, so wouldn't you be prepared to spend thirty quid or so if it stopped you paying £14,500 for a car that was only worth £11,000?

What else can you learn from a vehicle history report?
You might be amazed at just how much you can find out about a used car from a comprehensive vehicle history report. As well as the details I've already mentioned, a vehicle history check can also reveal details such as if the car is or has ever been stolen if it has outstanding debt attached, whether it has ever been written-off or seriously damaged if there is any third-party trace risk, details of previous number plate or colour changes, how many previous owners it has had and whether the mileage on the clock is correct.
A vehicle history report will not give you details of previous owners such as names, addresses, phone numbers or email addresses, but some of that you can get from the V5C registration document anyway.
Guarantees
Some of the more reputable, and often more expensive vehicle history reports can even include a guarantee that means you won't be left out of pocket even if the information it provides is incomplete or inaccurate for some reason.
For example, a full vehicle history report from Auto Trader covers 26 different points that include things like the number of previous owners, details about any plate changes and historical mileage recordings, but it also provides a Vehicle Data Guarantee of up to £30,000 or the purchase price (whichever is the lower) for up to two years.
Different suppliers and operators will offer different guarantees, but that gives you an idea of the kind of assurance you can get from one of the more premium vehicle history checks.
You still need to use your common sense
Okay, so you've decided on a vehicle you want to buy, you're happy with the price and you've got a vehicle history report that doesn't show anything untoward. You might even have some level of guarantee from the report too, but you still need to use your common sense because there are plenty of potential problems with used cars that even the most comprehensive report won't tell you about.
A vehicle history check won't tell you if the vehicle is currently in good order and it probably won't tell you about the service history either. I know that it's more money – and a lot more in some cases – but a full vehicle inspection from a body like the AA or RAC is what you need to let you know if there's anything mechanical or electrical you need to be concerned about.
Once again, if you're buying from a large dealership the vehicle will probably have been through a comprehensive inspection before being offered for sale and some sort of guarantee is also likely to be included as part of the sale. Although buying from a main dealer isn't a total guarantee, it does offer levels of protection and peace of mind you'll rarely find with smaller traders and you'll never get buying from a private seller.
Of course, you could avoid all the potential pitfalls of buying used by choosing to buy a brand new car instead, but that's an argument for another day and another article.