If you've never bought, sold or owned a private or personalised registration number you could have the wrong impression about how much they cost. Most of us have read stories in the newspapers from time to time about the astronomical sums paid for some private registration numbers, but they're only the ones you get to hear about. Someone paying half a million pounds for a private plate is obviously newsworthy but someone is paying a couple of hundred quid for one it obviously isn't.
You may also have the wrong idea about why people buy private registration numbers and why they might be useful, so let's take a look at whether or not private registration plates are expensive or not and why buying one might be a good idea.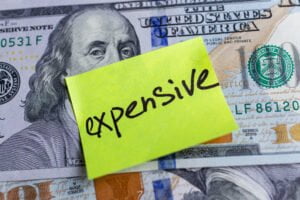 Rarity isn't relevant
A big factor in something being expensive is often rarity, but when it comes to the pricing of private registration numbers rarity is not always the issue. There's no doubt that there are fewer registration numbers available from the older registration systems that are no longer used for allocating numbers to brand new vehicles. That means that if your primary criteria for choosing a private reg number is it containing no more than three characters then there are only a certain number of them that could ever have been issued so rarity is an undeniable factor in the value and pricing.
However, just because a registration number has one letter and two numbers doesn't necessarily mean it will sell at auction for more than another number that contains four or more characters. If a plate with four or more characters appears to spell a popular name or refers to a sport, business, an occupation or a word that could have considerable significance to someone it could easily go for more money than a three-character plate.
Rarity, in itself, doesn't decide the market value of a particular registration number because, by their very nature, every single UK registration number is one hundred percent unique. That's the whole point of registration numbers, after all. A registration plate, by its very nature, is a unique set of numbers and letters designed to make the identification of every single vehicle and its owner on the road possible. That means the registration number A1 is just as unique as something like F354 YUB.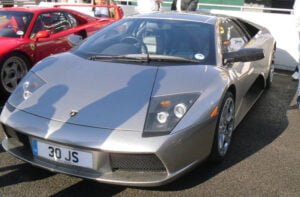 The value of earlier numbering systems
Okay, so we've established that numbers from earlier systems have an element or rarity in their value because there are fewer numbers that were available with earlier systems. After all, that's why they were replaced; they were running out of available combinations.
On the whole, though, people are not particularly wedded to the idea that they must have a number from a certain previous system. People are more bothered about the registration number itself and what it means to them, but a big part of the attraction of numbers from previously used numbering systems is it doesn't give away the age of their vehicle.
In the very earliest days of registration plates, there was no date element included, and that inevitably means if you have a number from a system that had no date identifier included it won't give anyone any idea of how old your car is. The downside is these numbers that have no date element that are sometimes referred to as "cherished numbers" are generally very old and at the same time very expensive.
However, the good news is that if you mainly want a private number to hide the age of your vehicle you can achieve that goal with numbers that now cost very little.
Hiding your vehicle's age with a private registration
There are relatively few cherished numbers that were designed without any reference to their date of issue, but there are loads of private registration numbers you can buy that will effectively do the same job of hiding your vehicle's date of registration for a tiny fraction of the price of a cherished number.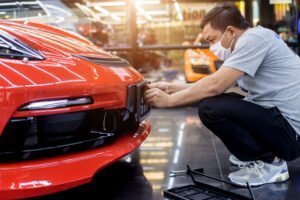 Plenty of registration numbers that did include a date identifier when they were issued no longer give away the age of your vehicle. For example, the suffix and prefix numbering systems were employed between 1963 and 2001 and they used a letter to show a date period of registration for the vehicle they were originally allocated to. These can sometimes cost every little but they won't necessarily tell anyone when your vehicle was registered.
For a start, if you ask someone how old a car would be if it had a "K" prefix registration number, how many would be able to tell you that it would have had to have been registered between 1 August 1992 and 31 July 1993? And even if they could it would be irrelevant if it was now allocated to a car that was brand new a couple of years ago.
I'll let you into a little secret now. I recently bought my first private registration number because I just leased a brand-new SUV but I took delivery six weeks before a change of registration number came in. When the vehicle was delivered, I would have been driving around with the latest number plate on, but in just over a month I would have been driving a vehicle with the "old" plate. As I have the vehicle on a three-year lease, I thought it would be good to opt-out of the whole current registration number thing by putting a private number on it.
I started looking around for a number, and as I'm a bit tight when it comes to things like this, I began searching for what I could get for the least money. I came across a raft of options that appealed to me that started with a letter that was then followed by two numbers and three more letters. I came across one that started with my wife's initial and the two-digit number that followed was a house number I'd lived at a couple of times, and it was also the day of the month of the birth of both my mother and my father. The final three letters corresponded to one of my favourite musical acts, and the best thing of all was the whole thing including VAT and the allocation fee was just £250.
I will tell you that the prefix letter is a K, but who is going to look at a brand-new 2021 model year SUV with a K registration number and think for a moment that it was made and registered in 1992 or 1993? Even when it gets to nearly three years old just before it goes back to the leasing company, is anyone going to think for a moment that I'm driving a 30-year-old car?
There are plenty of other reasons to buy and use a private registration number but what you need to understand is they don't have to cost a fortune and they only need to mean something to you. And if you just want to hide the age of your vehicle they don't even have to mean anything at all!